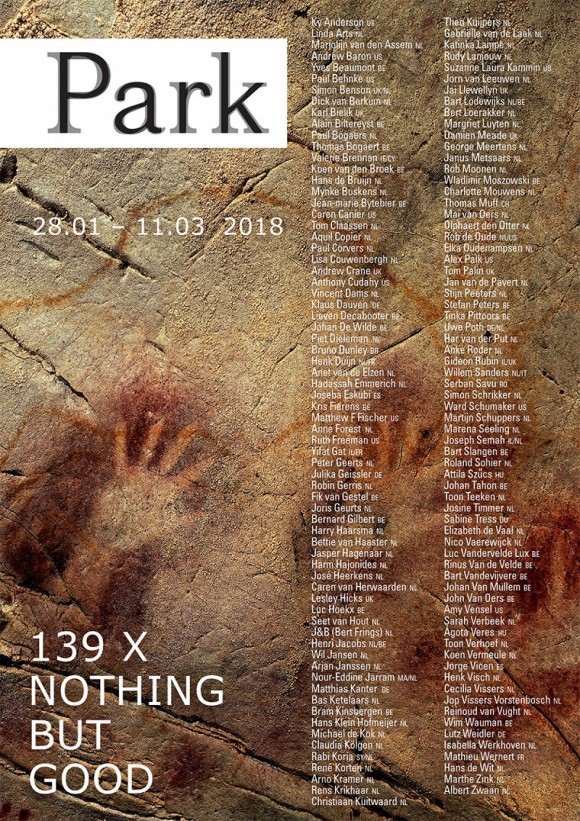 139 x NOTHING BUT GOOD
28.01 2018
11.03 2018
Park
Wilhelminapark 53
5041 ED Tilburg

As many as 139 artists from the Netherlands and abroad show a work on paper of approximately A4 size, mostly specially made for the exhibition.
The exhibition is based on the blog Nothing But Good. Invited artists link themselves with a deceased colleague who has had an important influence on their practice as an artist. Special connections throughout art history become visible, from the anonymous artists from the caves of Cantabria to Ellsworh Kelly. This is the second exhibition in PARK based on the blog.
The opening on Saturday, January 27 at 4 pm will be performed by TEMKO, an adventurous ensemble that combines musical styles in their own unique way. Prior to the opening TEMKO will give a short concert from 3:15 pm. You are kindly invited.
Participating artists : Ky Anderson (US), Linda Arts (NL), Marjolijn van den Assem (NL), Andrew Baron (US), Yves Beaumont (BE), Paul Behnke (US), Simon Benson (UK/NL), Dick van Berkum (NL), Karl Bielik (UK), Alain Biltereyst (BE), Paul Bogaers (NL), Thomas Bogaert (BE), Valerie Brennan (IE/CY), Koen van den Broek (BE), Hans de Bruijn (NL), Mynke Buskens (NL), Jean-marie Bytebier (BE), Caren Canier (US), Tom Claassen (NL), Aquil Copier (NL), Paul Corvers (NL), Lisa Couwenbergh (NL), Andrew Crane (UK), Anthony Cudahy (US), Vincent Dams (NL), Klaus Dauven (DE), Lieven Decabooter (BE), Johan De Wilde (BE), Piet Dieleman (NL), Bruno Dunley (BR), Henk Duijn (NL/FR), Anet van de Elzen (NL), Hadassah Emmerich (NL), Joseba Eskubi (ES), Kris Fierens (BE), Matthew F Fischer (US), Anne Forest (NL), Ruth Freeman (US), Yifat Gat (IL/FR), Peter Geerts (NL), Julika Geissler (DE), Robin Gerris (NL), Fik van Gestel (BE), Joris Geurts (NL), Bernard Gilbert (BE), Harry Haarsma (NL), Bettie van Haaster (NL), Jasper Hagenaar (NL), Harm Hajonides (NL), José Heerkens (NL), Caren van Herwaarden (NL), Lesley Hicks (UK), Luc Hoekx (BE), Seet van Hout (NL), J&B (Bert Frings) (NL), Henri Jacobs (NL/BE), Wil Jansen (NL), Arjan Janssen (NL), Nour-Eddine Jarram (MA/NL), Matthias Kanter (DE), Bas Ketelaars (NL), Bram Kinsbergen (BE), Hans Klein Hofmeijer (NL), Michael de Kok (NL), Claudia Kölgen (NL), Rabi Koria (SY/NL), René Korten (NL), Arno Kramer (NL), Rens Krikhaar (NL), Christiaan Kuitwaard (NL), Theo Kuijpers (NL), Gabriëlle van de Laak (NL), Katinka Lampe (NL), Rudy Lanjouw (NL), Suzanne Laura Kammin (US), Jorn van Leeuwen (NL), Jai Llewellyn (UK), Bart Lodewijks (NL/BE), Bert Loerakker (NL), Margriet Luyten (NL), Damien Meade (UK), George Meertens (NL), Janus Metsaars (NL), Rob Moonen (NL) , Wladimir Moszowski (BE), Charlotte Mouwens (NL), Thomas Muff (CH), Mai van Oers (NL), Olphaert den Otter (NL), Rob de Oude (NL/US), Elka Oudenampsen (NL), Alex Paik (US), Tom Palin (UK), Jan van de Pavert (NL), Stijn Peeters (NL), Stefan Peters (BE), Tinka Pittoors (BE), Uwe Poth (DE/NL), Har van der Put (NL), Anke Roder (NL), Gideon Rubin (IL/UK), Willem Sanders (NL/IT), Serban Savu (RO), Simon Schrikker (NL), Ward Schumaker (US), Martijn Schuppers (NL), Marena Seeling (NL), Joseph Semah (IL/NL), Bart Slangen (BE), Roland Sohier (NL), Attila Szucs (HU), Johan Tahon (BE), Toon Teeken (NL), Josine Timmer (NL), Sabine Tress (DU), Elizabeth de Vaal (NL), Nico Vaerewijck (NL), Luc Vandervelde Lux (BE), Rinus Van de Velde (BE), Bart Vandevijvere (BE), Johan Van Mullem (BE), John Van Oers (BE), Amy Vensel (US), Sarah Verbeek (NL), A´gota Veres (HU), Toon Verhoef (NL), Koen Vermeule (NL), Jorge Vicen (ES), Henk Visch (NL), Cecilia Vissers (NL), Jop Vissers Vorstenbosch (NL), Reinoud van Vught (NL), Wim Wauman (BE), Lutz Weidler (DE), Isabella Werkhoven (NL), Mathieu Wernert (FR), Hans de Wit (NL), Marthe Zink (NL), Albert Zwaan (NL).

www.park013.nl
http://nothing-but-good-art.blogspot.se/